Posts for: October, 2019
By Jay Freedman, DDS & Associates, PC
October 17, 2019
Once they learn to walk, there's no stopping most children. Sometimes it can be a little jarring, as when you discover your toddler on top of the kitchen counter reaching in the cupboard on tip-toes for a snack!
Fortunately, children are fairly resilient. Unfortunately, they're not invincible — some of their adventures could result in physical injuries, especially to the highly vulnerable area of the mouth.
Even if you've carefully "child-proofed" your home, it's still best to be prepared for mishaps. Here are 3 common dental injuries and how to handle them.
Soft tissue injuries. Making contact with the ground or hard objects like furniture can injure the lips, tongue, cheeks or gums and cause bleeding, cuts or bruising. First, clean the area with clean water and a cloth or gauze as best you can, making sure there aren't any trapped pieces of tooth or dirt. Apply gentle, continuous pressure with a clean cloth to control bleeding, and apply ice packs or cold compresses for swelling. Don't apply bleach, aspirin or similar medications to open wounds. If the bleeding won't stop or the wounds look serious or deep, go to an emergency room.
Chipped or displaced tooth. A blunt force mouth injury can chip or push (displace) teeth out of position. In this case try to save any chipped pieces you find — your dentist may be able to re-bond them to the tooth. A displaced tooth is a dental emergency, so contact your dentist immediately. Don't try to re-position the tooth yourself unless it's completely knocked out.
Knocked-out tooth. Actions to take with a knocked-out tooth depend on whether it's a permanent or primary (baby) tooth. If permanent, rinse the tooth with clean water. Handle it by the crown (never by the root) and gently place it back in the empty socket. If that's not possible, place the tooth between your child's cheek and gum (if the child is old enough not to swallow it by mistake. You can also place it in a glass of cold milk. Get to a dentist or an emergency room as soon as possible — minutes count for a successful reattachment. Conversely, don't try to put a primary tooth back in its socket — you could damage the developing permanent tooth beneath the gum line. But do see a dentist as soon as possible for an examination.
If you would like more information on responding to mouth injuries in children, please contact us or schedule an appointment for a consultation.
By Jay Freedman, DDS & Associates, PC
October 07, 2019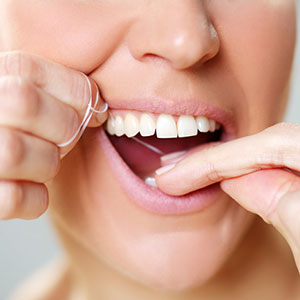 Your mouth is teeming with bacteria—millions of them. But don't be alarmed: Most are benign or even beneficial. There are, however, some bacteria that cause tooth decay or periodontal (gum) disease, which can damage your oral health.
These disease-causing bacteria feed and multiply within a thin biofilm of leftover food particles on tooth surfaces called dental plaque. To reduce these bacterial populations—and thus your disease risk—you'll need to keep plaque from building up through daily brushing and flossing.
Now, there's brushing and flossing—and then there's effective brushing and flossing. While both tasks are fairly simple to perform, there are some things you can do to maximize plaque removal.
Regarding the first task, you should brush once or twice a day unless your dentist advises otherwise. And "Easy does it" is the rule: Hard, aggressive scrubbing can damage your gums. A gentle, circular motion using a good quality toothbrush will get the job done. Just be sure to brush all tooth surfaces, including the nooks and crannies along the biting surfaces. On average, a complete brushing session should take about two minutes.
You should also floss at least once a day. To begin with, take about 18" of thread and wrap each end around an index or middle finger. Pulling taut and using your thumbs to help maneuver the thread, ease the floss between teeth. You then wrap it around each tooth side to form a "C" shape and gently slide the floss up and down. Continue on around until you've flossed between each tooth on both jaws.
You can get a rough idea how well you did after each hygiene session by rubbing your tongue against your teeth—they should feel slick and smooth. If you feel any grittiness, some plaque still remains. Your dentist can give you a more precise evaluation of your cleaning effectiveness at your regular dental visits. This is also when they'll clean your teeth of any missed plaque and tartar.
While professional dental cleanings are important, what you do every day to remove plaque is the real game changer for optimum oral health. Becoming a brushing and flossing "ninja" is the best way to keep your healthy smile.
If you would like more information on daily oral care, please contact us or schedule an appointment for a consultation. You can also learn more about this topic by reading the Dear Doctor magazine article "Daily Oral Hygiene: Easy Habits for Maintaining Oral Health."